0000-06-07


Publishing on Draft2Digital
Draft2Digital is an online platform that allows you to distribute ebooks and paperback books to all the major retailers and online market places worldwide. With the check of a box, you can choose which market place you want to publish to, and you can keep up with how your sales are doing in one central place. You can see which stores are selling your books, how many units were sold, what your projected royalties will be, and so on.
The alternative to using Draft2Digital is publishing your book on different platforms, having to use different reporting tools and to deal with different payment arrangements. This can be a pain.
For instance, if you distribute your book on different platforms, you might end up with small amounts of money that are never paid out because you never reached the minimum threshold for payment on each of these platforms separately. That problem doesn't exist with Draft2Digital. There is a threshold for payment ($10 for international direct deposit), but you are more likely to reach that threshold because the revenue of different sales channels is aggregated. For instance, if you made $4 on Kobo, $5 on Apple Books, and $3 on Barnes & Noble, you might not get paid if you registered with those three platforms separately, but the combined amount, $12 exceeds the threshold of Draft2Digital.
This may be a silly example—as a matter of fact I increased the threshold to $100 to have less paperwork, but having all your financial reporting in one place is a great advantage. To get paid, many platforms require you to take an automated interview that results in a filled-out tax form (such as a W-8BEN or a W-8BEN-E form if, like me, you are a foreigner to the US). With Draft2Digital, you only have to do this once, and you can start selling on different storefronts.
When I started using Draft2Digital, print wasn't supported yet. I only have experience with publishing eBooks using Draft2Digital. The process is quite simple.
Step 1: Upload ePub, provide details
This is the first screen you'll encounter. When you upload an ePub, Draft2Digital will do a thorough syntax check and give you a detailed report of all the errors in your file. I used this feature to debug my first eBook during my experiments with the ePub format.
You'll notice that the screen shot contains a warning: encryption isn't supported by Scribd, so if you plan to release your eBook on Scribd, you may want to remove all encryption—or ignore the warning if Scribd isn't a channel you're interested in.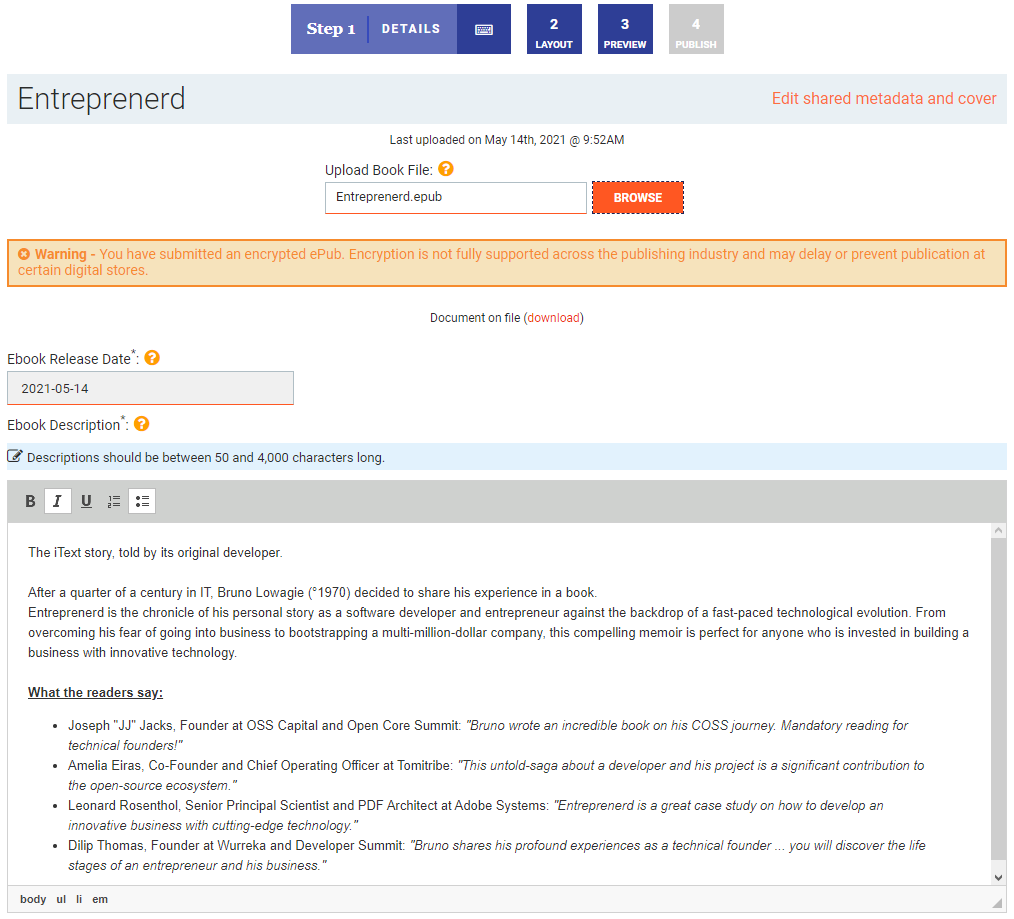 The description you add, will appear on the different sales channels you choose.
This is what the book looks like on Apple Books: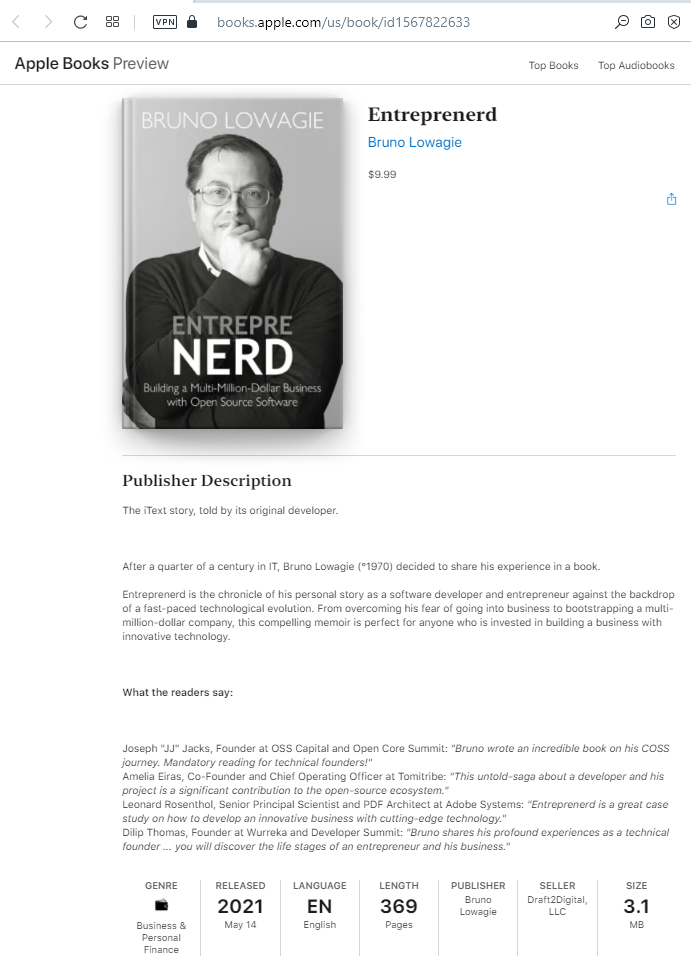 This is what it looks like on the Barnes & Noble website: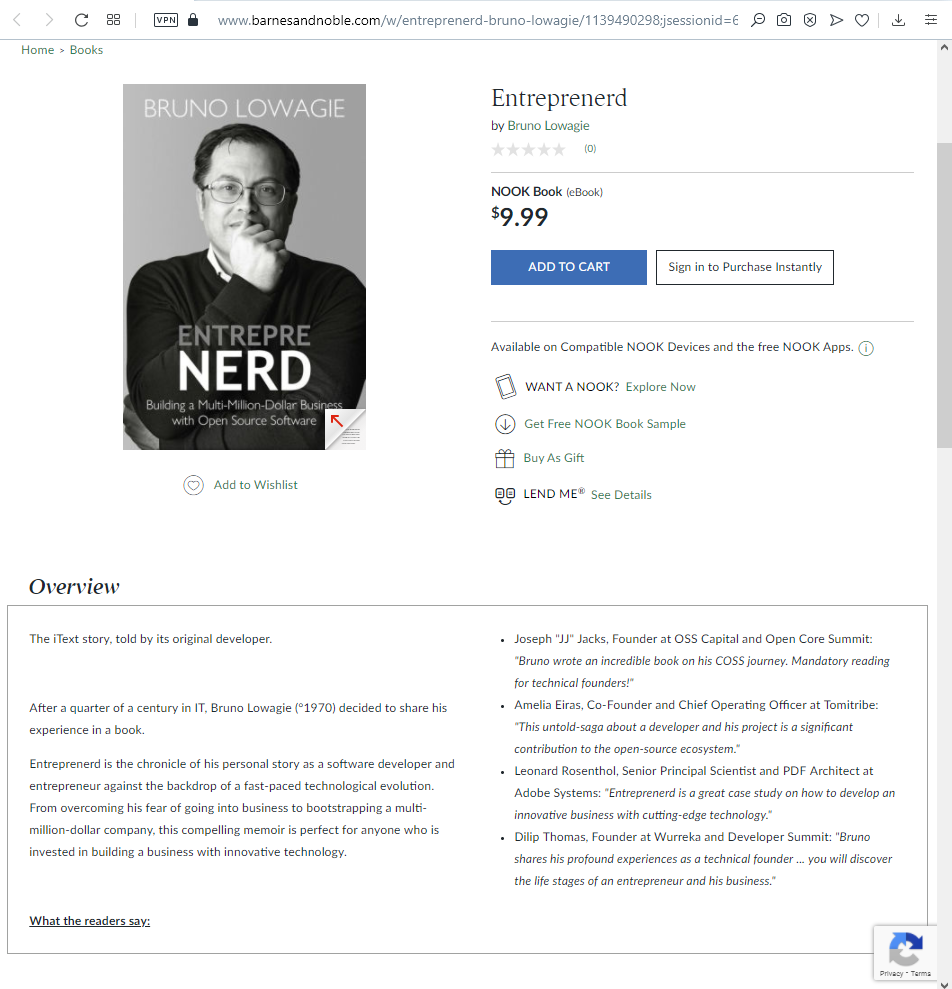 Draft2Digital also provides a page for your book with a Universal Book Link (UBL) that you can share with your audience if you don't have your own website.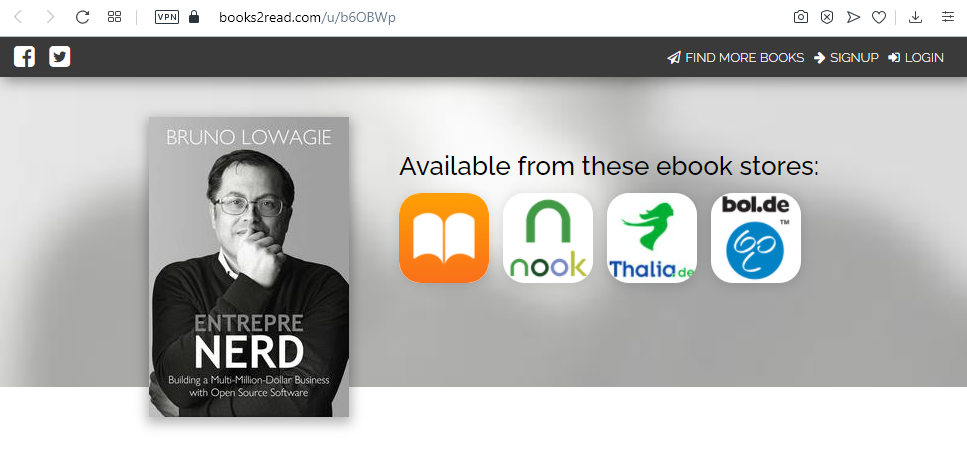 In step 1, you can also add other contributors, and you can indicate which percentage of the revenue has to be shared with them.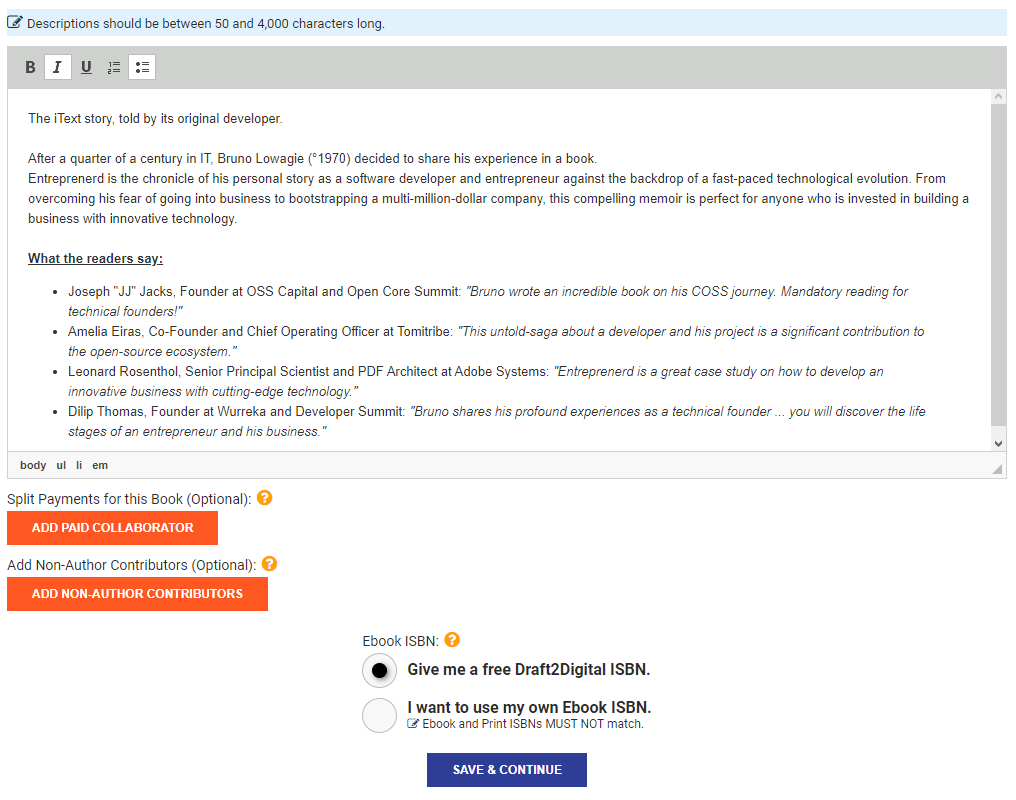 If you don't have your own ISBN, Draft2Digital will provide one for free.
Step 2: Layout
For my book Entreprenerd, the typesetter who created the PDF for the print book also created the eBook in ePub3 format. Although ePub3 has been around for many years already, Draft2Digital warns that you can't take advantage of all the dynamic features Draft2Digital has to offer.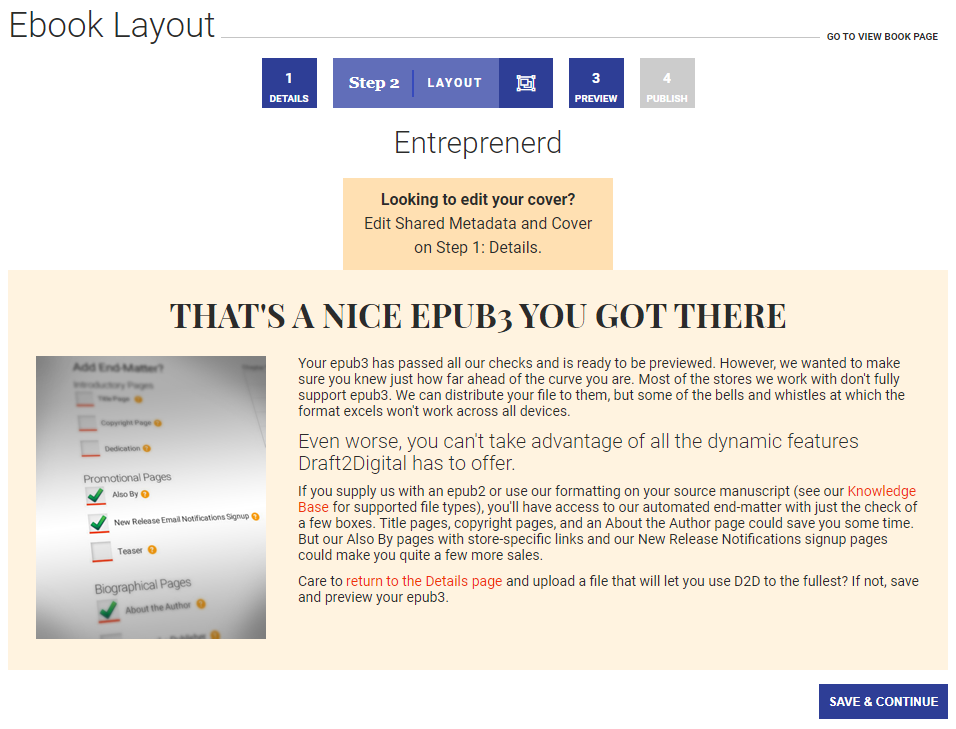 For my books Gebeten and Reflection Infection, I created the ePub myself in ePub2 format. This allowed me to add extra pages automatically, such as an "Also by" page, listing other books I have published on Draft2Digital.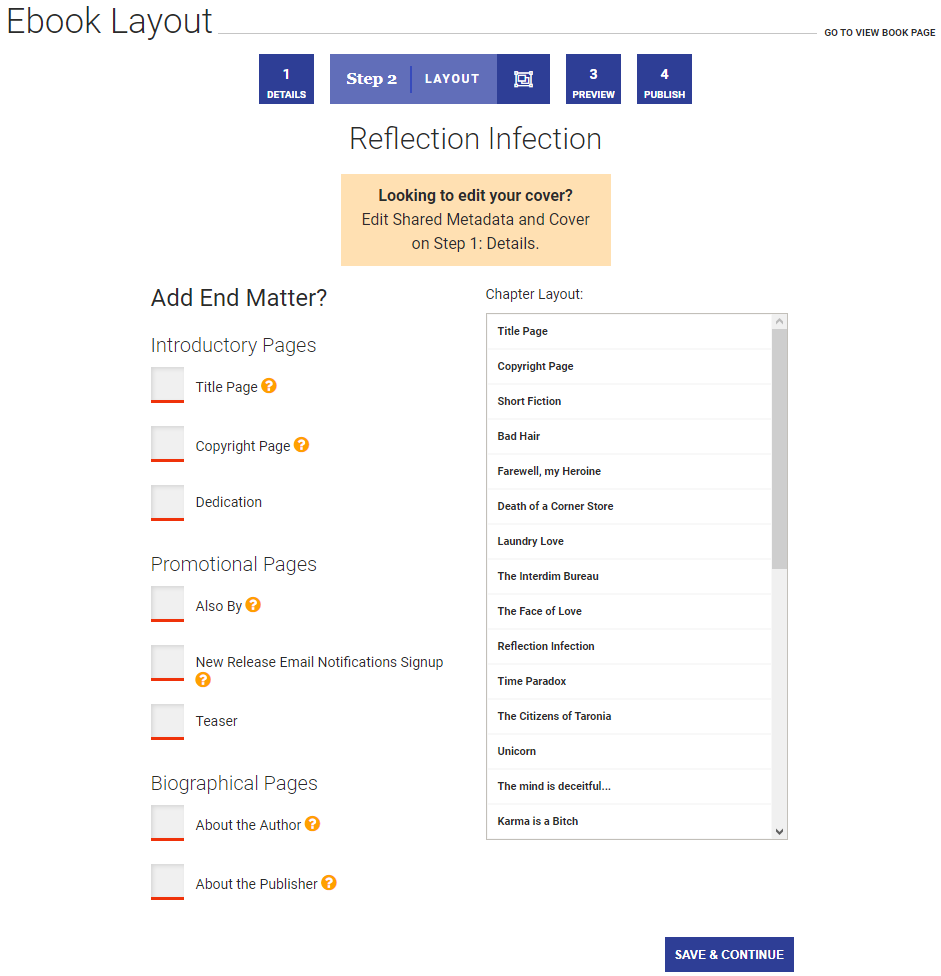 I wouldn't worry too much about step 2. I never used any of these features. I never needed them.
Step 3: Preview
In step 3, you can download your ePub as a .mobi file and as an ePub. You can review these files with tools such as the Kindle Previewer or Adobe Digital Editions.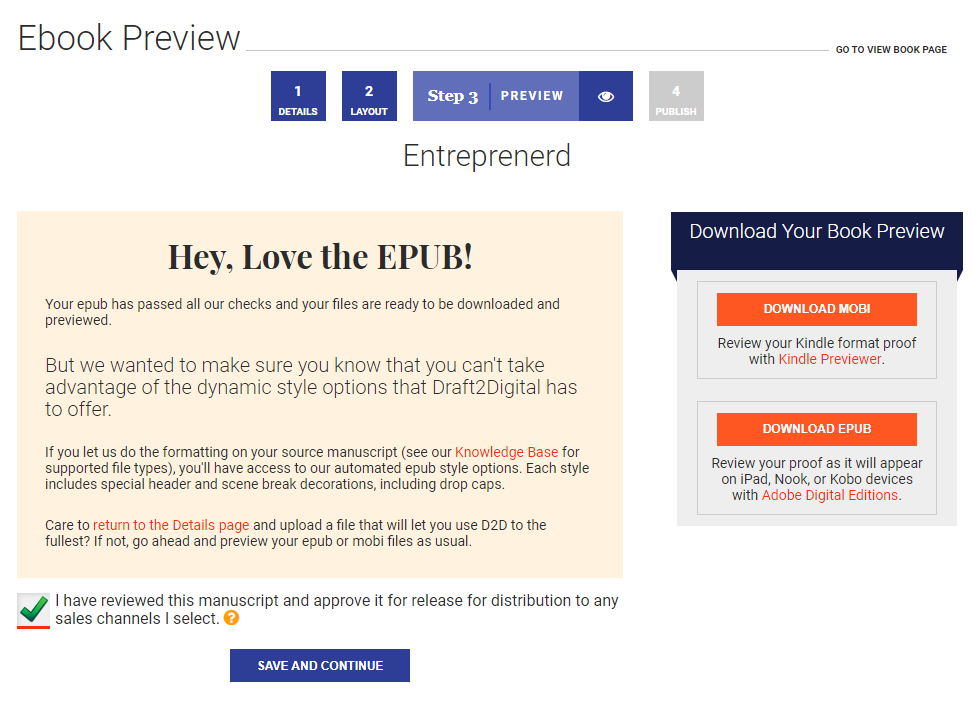 On this page, Draft2Digital informs you that you can also use their tools to create an ePub from a Word document, but I have always ignored that message. I just checked the check box confirming that I have reviewed the manuscript.
Step 4: Publish
In the first step, you enter the price for your book, in my case $9.99, and you will immediately see which royalty corresponds with that price depending on the sales channel that realized a sale. You also have an option to manage territorial prices. That is: define the price in currencies other than the US dollar.
Pick the sales channels you want to involve to sell your book by checking the boxes. For me personally, only the first part of this form is relevant: I want Draft2Digital to distribute my eBooks through Barnes & Noble, Apple Books, Tolino, and Vivlio.
I opted out for distribution through Rakuten Kobo because I have an account on Kobo Writing Life. It would be confusing for readers if they find the same book twice on Kobo, once directly offered by Kobo, once offered by Draft2Digital as vendor.
I was aware of the existence of Barnes & Noble and Apple Books, but I had no idea what Tolino and Vivlio were about. I noticed that my book appeared in different online stores, among which bol.de and Thalia.de, after checking those check boxes. This is the main advantage of using Draft2Digital: you don't need to know all these sales channels, you can just check boxes and before you know it, your book is available in the US, Germany, France, Australia...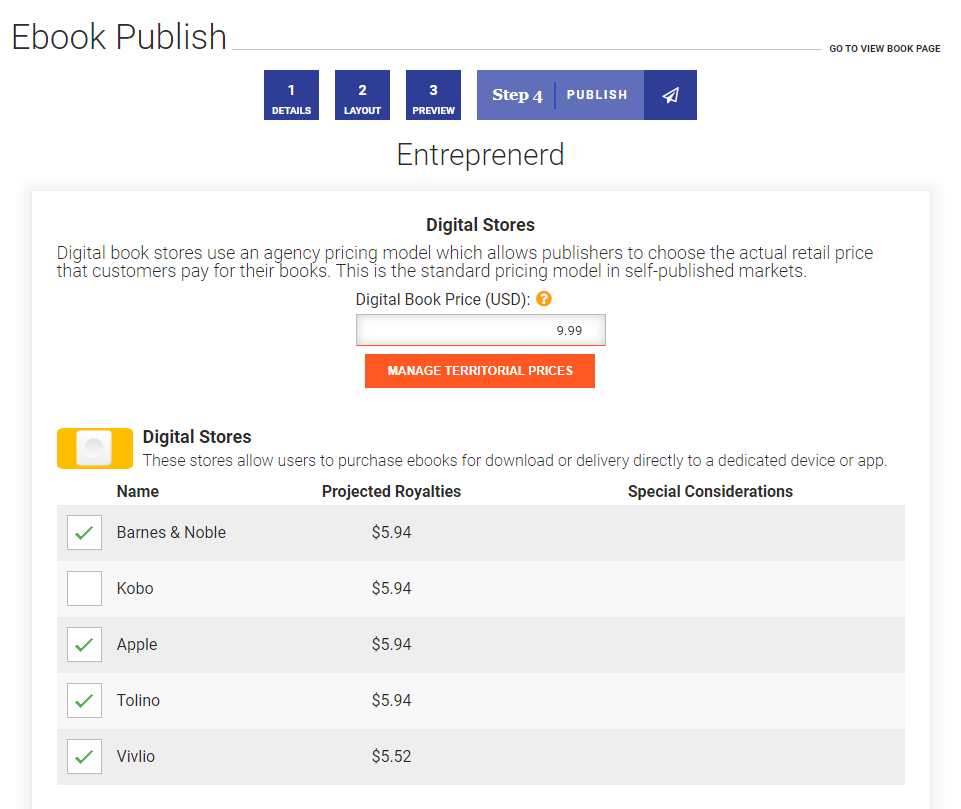 There's an extra warning regarding Amazon. You shouldn't check this check box on Draft2Digital if you also plan to publish your book using Amazon's Kindle Direct Publishing (KDP)—or if you have already done so.
As I already mentioned when we discussed step 1, publishing on Scribd wasn't an option because my ePub file contained encryption, but that's nothing to worry about.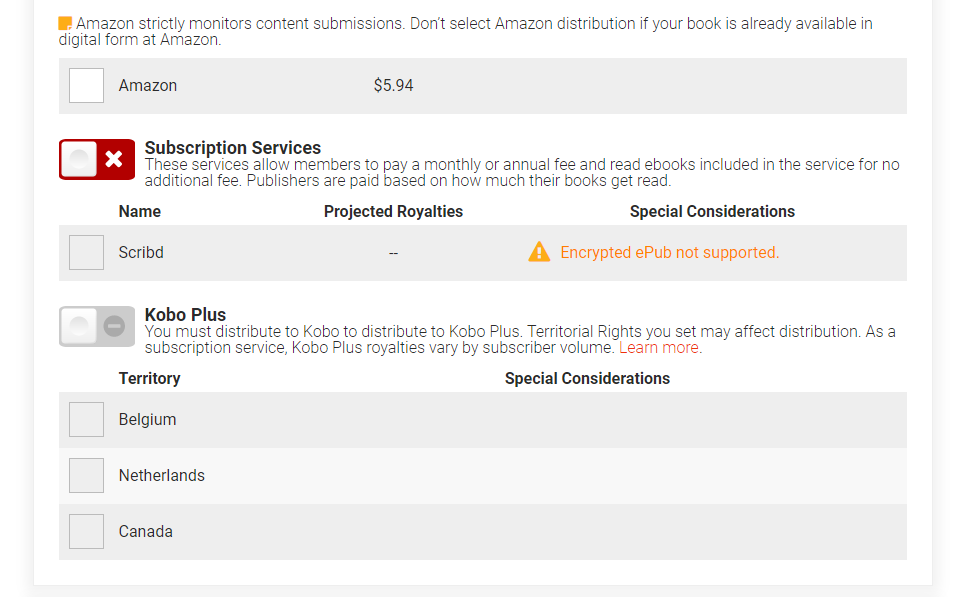 I also ignore Kobo Plus because I intend to publish the eBook using my Kobo Writing Life account.
For now, I didn't choose to make the eBook available for Library Services. I may change my mind about this in the future.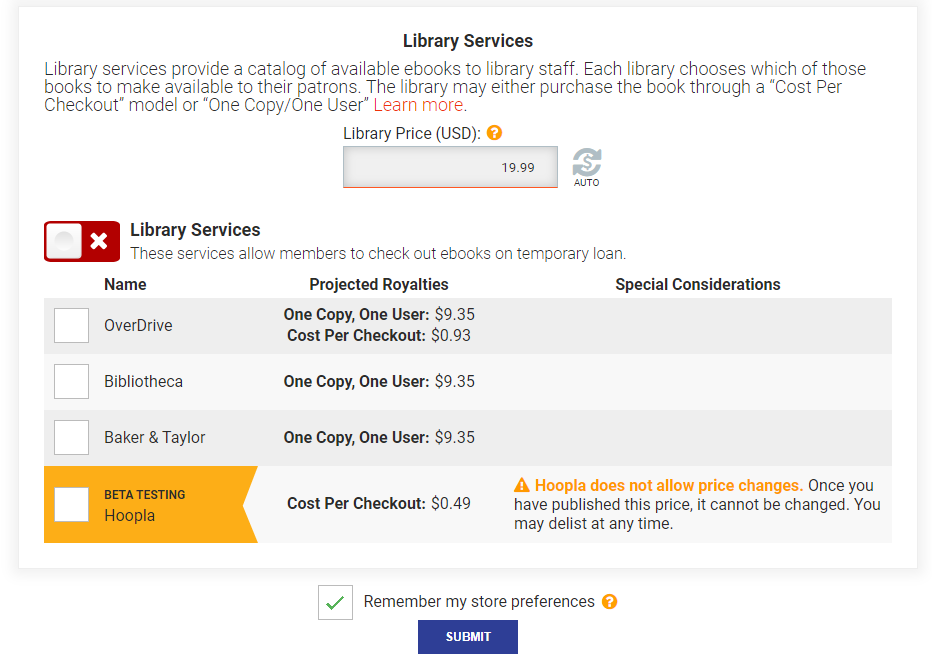 Once you hit "Submit", the status of your book changed from Draft to Publishing. You will receive a mail for every sales channel that approved your submission. Usually, this happens within a day—certainly on weekdays.
When I released Entreprenerd, I bumped into an extremely strange problem. My book was refused for publication on Apple Books because it contained the word Leanpub. Leanpub was considered being a competitor of Apple Books, and according to an automated process at Draft2Digital, Apple didn't like that. I have written a blog post about this weird experience on my personal website. To make a long story short: I sent a mail to support @ Draft2Digital and they manually approved my book. It was published on Apple Books in its original form.
Reporting
You can follow up your sales on the reporting page. As I only distribute my books to a limited number of market places using Draft2Digital, my reports don't show many sales.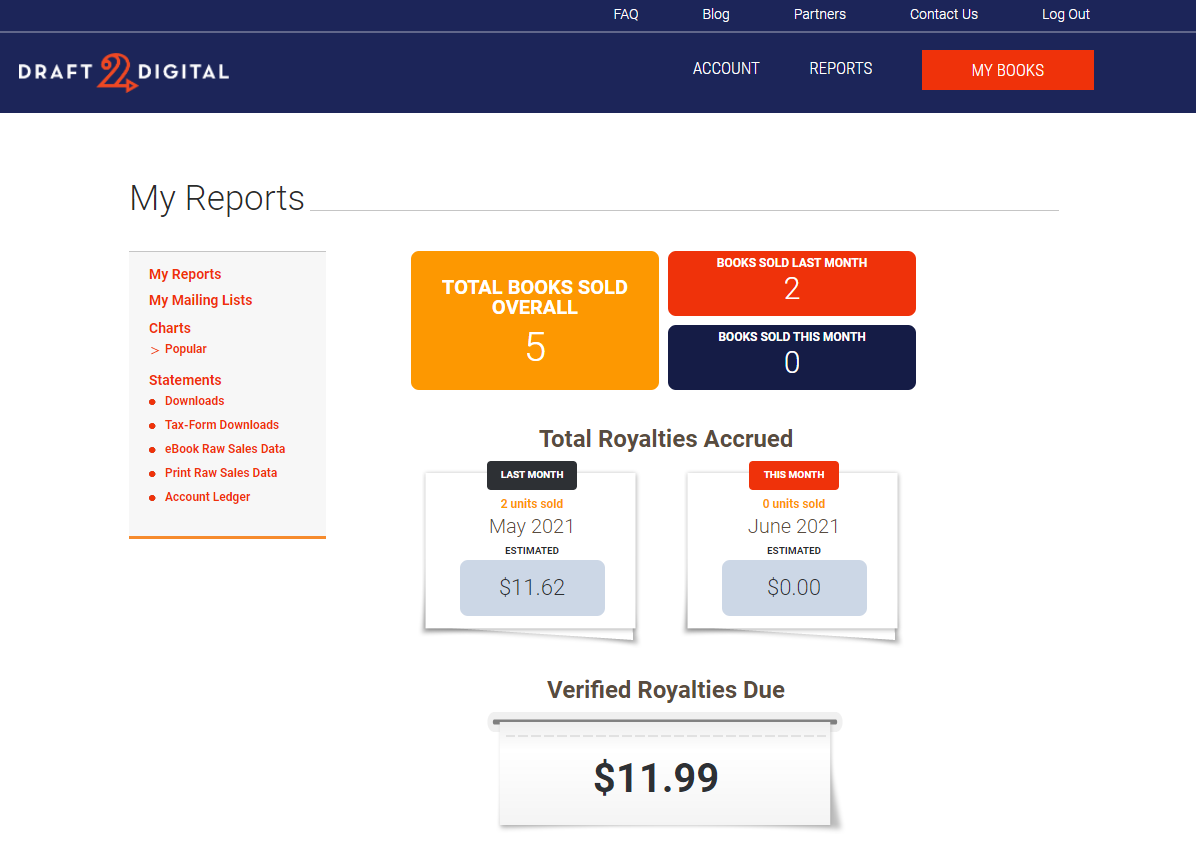 If you want more detail, you can create different charts by selecting which metric you want to see in which context. As an example, I have created a chart showing the number of books sold by title.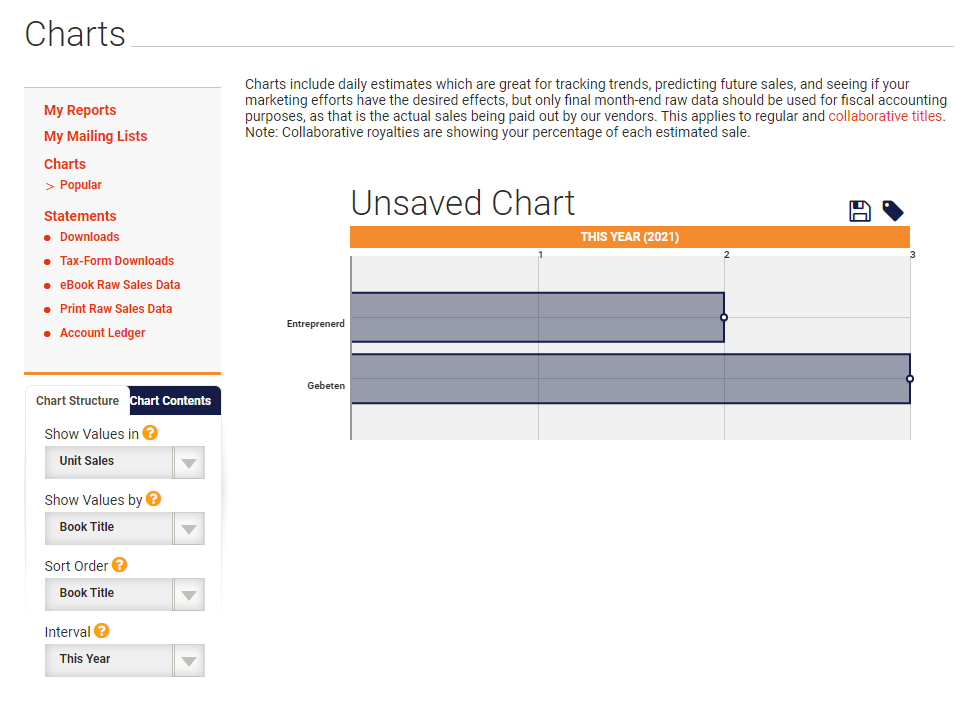 For now, I only sold two copies of Entreprenerd, and three of Gebeten. Using another report, I could see that these five sales originated from Apple Books. I didn't sell any books through B&N, Tolino, of Vivlio yet.
I have set the threshold for payment at $100, and so far I only made about $23.61 in royalties, so I can't comment on payments (yet). All in all, I think that Draft2Digital is the best option for people who want to go for ease of use. The process to release an eBook on Draft2Digital is much easier than to publish it on Amazon KDP. The people manning the helpdesk are friendly and helpful. If you want things to be simple, this is the solution for you.

Personally, I prefer services such as Leanpub and Amazon KDP, but I still use Draft2Digital to extend the coverage of my book. You never know if someone really wants to read my book on a Nook from Barnes & Noble instead of on a Kindle from Amazon. If the people at Draft2Digital are reading this, I would recommend them to do a make-over of their website, as it has a somewhat outdated look and feel. The GUI of the reporting would also benefit from a redesign. This being said: everything an author needs is there. My suggestions are only about the cosmetics, not about the functionality.
Publishing an eBook Publishing on Kobo Writing Life