0000-07-09


Option 1: My Strange Experience with Mr. Jones
When I started thinking about the outline of my book Entreprenerd, I had a wish list of publishers I wanted to work with. Penguin Random House and Simon & Schuster were on the top of that list. Unfortunately, these publishers don't accept unsolicited manuscripts.
See for instance the Manuscript Submissions page on the Simon & Schuster website: "Simon & Schuster does not review, retain or return unsolicited materials or artwork. We suggest that prospective authors and illustrators submit their manuscripts through a professional literary agent."
I wrote two books for Manning Publications in the past, and I remembered that the first contact with the publisher was made through an Acquisition Manager. As I wouldn't be able to convince a literary agent to work with me before having finished at least a raw version of my book, I searched the web for the term "acquisition manager" in combination with "Penguin Random House" and "Simon & Schuster."
I found the profile of someone named Robin Jones—today, this profile isn't available anymore—and I sent him an invitation to connect.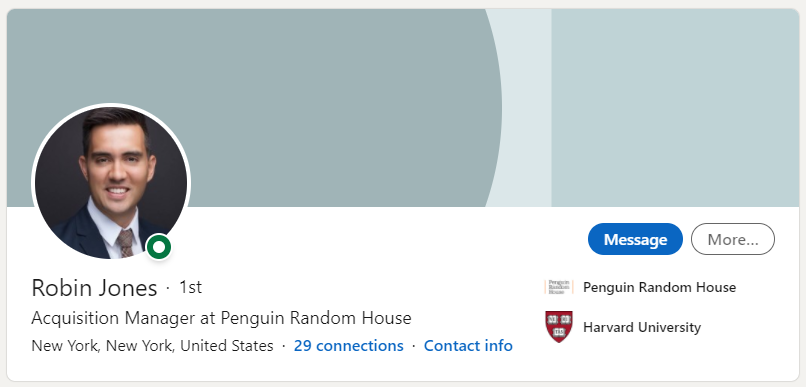 Given that this Robin Jones had less than 30 connections, I didn't expect him to answer. I assumed he was the type of person who has a LinkedIn account because it's a must-have, but who is very selective about who he accepts as a connection. On May 5, 2020, I was quite surprised when my invitation was accepted. And what's more: Robin Jones claimed that he was genuinely interested in my work!
A call was set up, but I waited in vain for Robin and his team to join on a Skype account that was named "Penguin Random House Acquisition ...".

I was stood up three times in a row, always with the same excuse.
I asked to be introduced to these Directors by name, to get more info on the publishing process, and to receive an email sent from an official PRH address. Unfortunately, those requests were ignored.
As I have some self-respect, and as I didn't get anywhere with this person, I considered Robin Jones to be either a fraud, or at the least someone it was very frustrating to work with. I also found it suspicious that LinkedIn and Skype were the only means of communication. I had no way to check if Robin Jones was who he claimed to be.
To make a long story short: I abandoned the conversation, explaining that I wasn't going to have anything for PRH to work with before September. I had some other projects to finish first. (This was true. I only started to work on Entreprenerd in August.)
I didn't expect to hear anything from Robin Jones ever again, until he suddenly pinged me in August.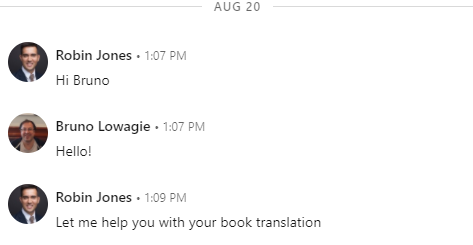 I had just finished the first chapters and I didn't see any harm in sharing them with Robin Jones.
He replied immediately:

I kept sending updates, and on September 12, I received the message that the book was good to go for PRH.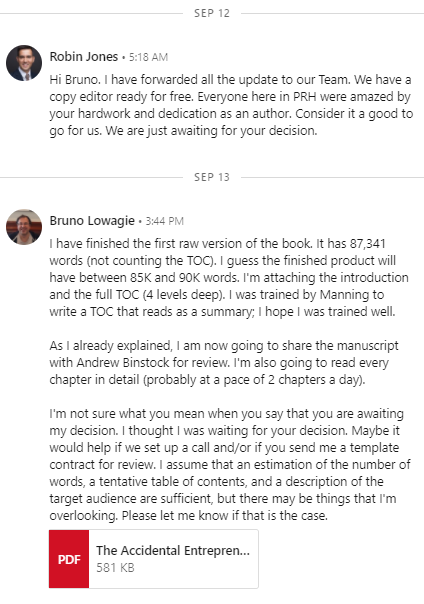 As you can see, I still used The Accidental Entrepeneur as a working title for my book back then; I only came up with the title Entreprenerd after finishing a first version of the manuscript.
Anyway, the message from Robin Jones was exciting news, but I still had plenty of doubts. I didn't think it was a good idea to share the full book; I only sent him the introductory chapters and the full table of contents. After that, Robin Jones remained silent for almost two weeks. Either the copy editor was working on the chapters that I had already shared, or someone had set up an elaborate prank. I assumed the latter.
On September 25, I received the message that the entire team at PRH was "ready for the publishing and especially marketing my book!"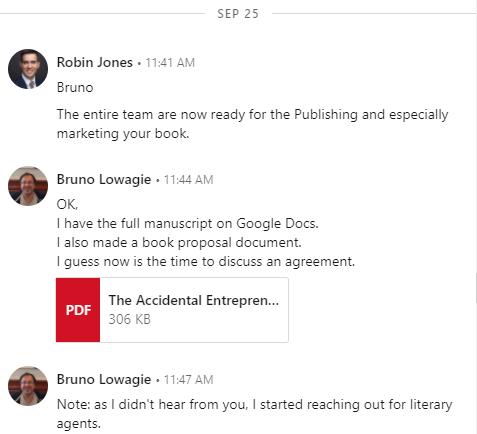 I can't imagine a publishing house such as Penguin Random House would engage in a project with an author without having a signed agreement in place. If PRH really wanted to move forward, both parties would need some kind of agreement. During my search for literary agents that started in September, I asked around if anyone knew Robin Jones, without any success. I also reached out to another acquisition manager at PRH, asking if Robin Jones was for real.

I didn't receive any answer. I knew this was a long shot.
Meanwhile, Robin Jones tried to convince me that the editors at PRH were impressed with the part of the manuscript he had forwarded to them. These compliments didn't have any effect on me. I would only believe them the moment I received a publishing agreement.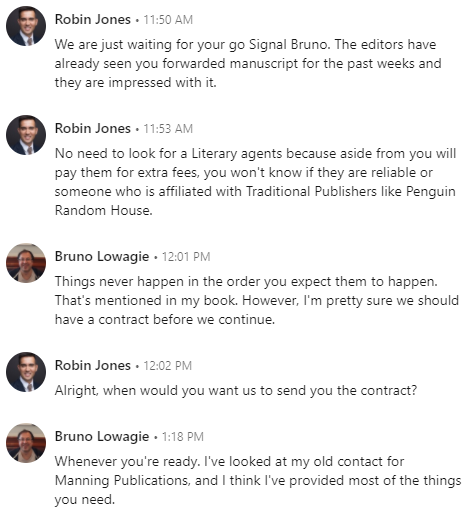 Once more, there was a pause of almost two weeks. When Robin Jones pinged me to ask me if I was ready, he probably hoped that I had forgotten all about my question to make the book deal official.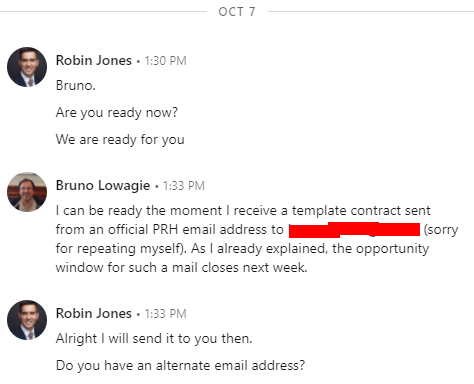 Woohoo, I would finally know if Robin Jones was for real.
I watched my Inbox all day, but... nothing.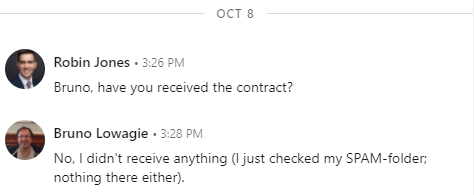 One day later, still nothing.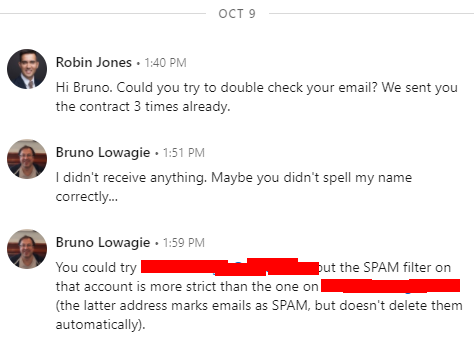 On October 9, Robin Jones had two active email addresses he could use to send me a publishing agreement. I used those addresses to send book proposals to literary agents and other publishers. I received plenty of feedback on those addresses, but... no publishing agreement from Robin Jones, nor from Penguin Random House.
Ten days later, Robin Jones pinged me again on LinkedIn: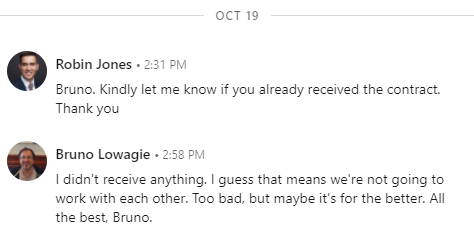 An advice I give in my book, is to set a deadline on everything you do. I had set the deadline for working with PRH on October 15. I was willing to play along with the prank Robin Jones was pulling on me until that date. Once that deadline was reached, I decided to put an end to the conversation.
I didn't hear anything from Robin Jones until November 10 and November 14.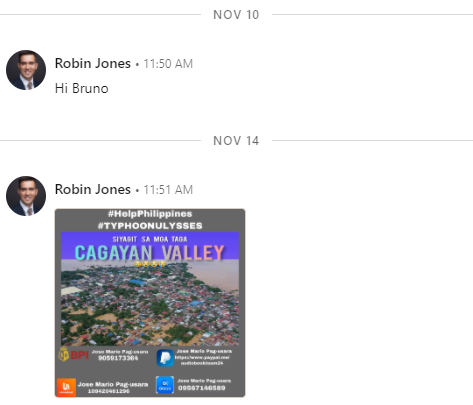 The last message I received, was an image inviting me to donate money to help the people in the Philippines who suffered from a typhoon, but... that can hardly be the reason why someone would set up such an elaborate prank.
I wrote an article about my strange experience with Mr. Jones on LinkedIn, and I shared the draft with Robin Jones before hitting the Publish button: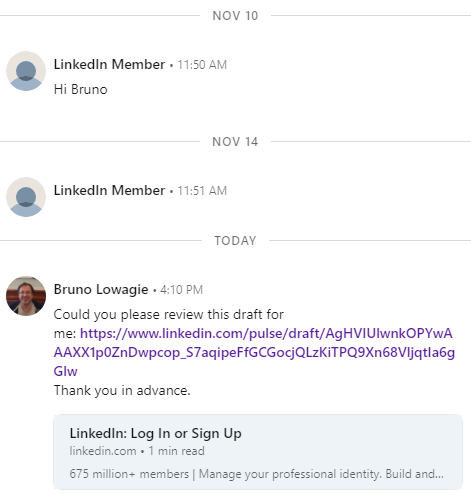 The moment Robin Jones had read my draft, he "unfriended" me on LinkedIn. In my Messages, he was presented as a "LinkedIn Member" instead of as "Robin Jones." I was blocked from seeing his account; I could only see it if I logged out from LinkedIn—and today the profile seems to have disappeared completely.
I wrote my LinkedIn article on November 23, 2020, but before publishing it, I did two additional attempts to verify if Robin Jones is for real or not.
I sent a email with a link to the draft to the address that is meant for book influencers who write about PRH books, internationalpublicity at penguinrandomhouse.com giving them the opportunity to comment. I never received a reply to that email.
I contacted Andy Chown, Director Of Talent Acquisition on LinkedIn.

I received the following answer from Andy Chown on Monday, November 30: "I couldn't find anyone with that name so I imagine they don't actually work for us, would you have any additional information you'd be able/willing to share?"
I shared a link to my LinkedIn article, and I wrote: "I don't have access to Robin Jones' profile anymore, but when using my browser in private mode, I can still see his profile. Maybe PRH can somehow mark it as a fake profile to avoid that this person tries to fool other people."
Andy replied: "Apologies for your having a poor experience, irrespective of the fact they don't seem to work for us."
Obviously, PRH is in no way responsible for people pretending to work for them, but I guess they took action anyway, because Robin Jones' profile no longer exists today. I will probably never know who Mr. Jones really was, and I regret that his true intentions will always remain a mystery to me.
If I wanted to have my book published by Penguin Random House, I would have to find a literary agent willing to introduce me to a real acquisition manager. That turned out to be more difficult than I had hoped.
Getting Published Option 2: The Problem with Finding a Literary Agent